By: Sara Visser
Hi friends! This is Sara from The GR Guide, and I'm excited to share some easy holiday hosting tips and recipes. I've really enjoyed partnering with Priority Health and embracing the shifting seasons here in Michigan. With Thanksgiving right around the corner, I'm looking forward to spending time with friends and family, and of course, enjoying some delicious food. Are you hosting Thanksgiving this year? If so, keep reading to find my tips and make-ahead appetizer recipes that will make hosting less overwhelming this holiday season.
Hosting friends and family during the holiday season can be slightly stressful with planning the menu, getting the house decorated, and not over-crowding your oven. Am I right? To make hosting more enjoyable, here are seven helpful tips and tricks.
1. Make a plan.
Take a few minutes to write down a plan for the menu, a shopping list, and table setting ideas. Having a plan in place makes hosting so much easier (trust me). You'll be less overwhelmed when you have a plan in place and can easily organize what needs to be done. 
2. Don't be afraid to ask for help.
There are quite a few classic dishes that everyone enjoys during the Thanksgiving holiday. Once you include appetizers and desserts, the amount of dishes you're making can really add up. Don't be afraid to ask your sister to make a pie and your mom to bring her famous cranberry sauce and rolls. 
3. Use natural elements for your table setting.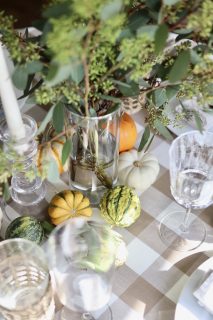 Feeling overwhelmed about decorating your Thanksgiving table? Keep it simple with natural items like mini pumpkins, gourds, and flowers. You don't need to go over the top with your decorations – sometimes less is more. 
4. Set your table the night before.
Take one thing off your to-do list the day of Thanksgiving by setting your table the night before. Set out your dinnerware and decor items so you can rest easy and not worry about the table while you're cooking.
5. Make what you can ahead of time.
Go through menu items and see if there is anything you can make beforehand. Maybe a salad or dessert? Having a few things ready to go will save you time and stress on Thanksgiving. 
6. Make the appetizers easy and no-bake.
If you're hosting Thanksgiving, I'm sure your oven is pretty crowded with a turkey, green bean casserole and stuffing. Keep the appetizers light, easy and no-bake. I always suggest a charcuterie board and finger food that everyone will enjoy. Scroll down for my favorite appetizer recipes. 
7. Enjoy yourself and have fun.
Don't forget to enjoy yourself and have some fun on Thanksgiving. Spend time with your friends and family, celebrating what you're thankful for this season. 
Easy Appetizer Recipes
Here are my favorite recipes for quick and easy appetizers your friends and family will love. These no-bake, make-ahead recipes are perfect for Thanksgiving. 
Charcuterie Board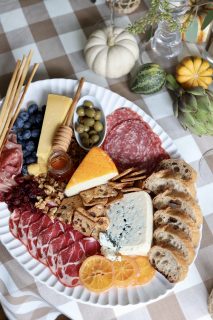 You can't go wrong with a charcuterie board as an appetizer. With a variety of meats, cheeses, fruits and crackers there's something for everyone to enjoy. When it comes to making a charcuterie board, I always suggest starting with a variety of hard and soft cheeses. My favorites are Parmesan, Gouda or Cheddar paired with a Brie, Blue Cheese or Goat Cheese. Next add a variety of meat like Prosciutto, Salami, or Soppressata. Include some fresh and dried fruit, nuts, olives, and a variety of breads or crackers. The best part about making a charcuterie board is you can also make this the night before. Just add the fresh bread and crackers to the board before serving.
Melon Prosciutto Skewers
These melon and prosciutto skewers are a crowd favorite. You can also make these skewers the night before.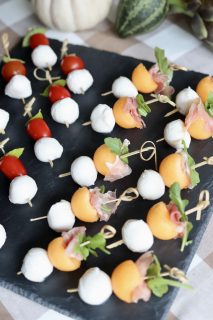 Ingredients:
Cantaloupe

Prosciutto

Mini Mozzarella Balls

Arugula 
Directions:
Start by cutting the cantaloupe in half. Scoop out the seeds and use a melon baller to create cantaloupe balls. To assemble the skewers, start with the arugula, then add the prosciutto, cantaloupe ball and a mozzarella ball. You can also serve these with balsamic vinegar on the side. 
Caprese Skewers
Everyone loves an easy finger food option for an appetizer. These caprese skewers are easy to make, and can also be made the day before.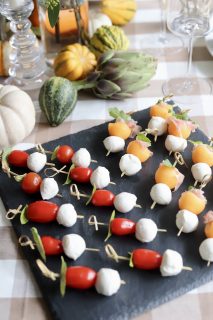 Ingredients:
Cherry Tomatoes

Mini Mozzarella Balls

Fresh Basil Leaves

Toothpicks
Directions:
Put the basil leaf, tomato and mozzarella ball on each toothpick. Assemble on a serving plate. You can also serve with olive oil or balsamic vinegar on the side. 
I hope you enjoyed these helpful hosting tips and easy appetizer recipes. Have a wonderful holiday season!
About the Author: Sara Visser is the founder of The GR Guide in Grand Rapids, Michigan. The GR Guide features a mix of all Sara's favorite things which include shopping local, trying new restaurants, traveling, and creating new recipes in the kitchen.