There's nothing like taking a trip to a local farmers market on a summer morning. It's one of the joys of a Michigan summer. From veggies to fruit to flowers, plants and farm fresh eggs — there's so much in season during summer in our Great Lakes State. Whether you visit a farm's roadside stand or a full-fledged farmers market, here are some top tips to make the most of your shopping trip.
1. Don't sleep in.
Getting to a market early will guarantee you get your pick of the best produce before the big crowd arrives — especially on weekends. So, skip hitting snooze and head out early for the best selection. Use this Farmers Market Locator to find which Michigan farmers markets are closest to your home or vacation spot if you're traveling.

2. Plan ahead.
A little research before you go can ensure a successful shopping trip. Use this Michigan Availability Guide to determine when you can expect your favorite fruits and vegetables to appear at your local market. Select some recipes ahead of time you would like to try. You can find a variety of healthy recipes here. Wellness experts and registered dietitians also recommend these sites as trusted sources for healthy cooking:  EatingWell, CookingLight and the American Heart Association. Once you have recipes and an ingredient plan, make a list and bring it with you. If something isn't available or has run out for the day, ask a farmer for help − they may have great ideas or recommendations for an ingredient swap.
3. Bring supplies.
Reusable bags and even a portable rolling cart can be helpful if you're planning on stocking up on fresh ingredients. Many farmers market vendors offer eggs, meat and cheese in addition to fruits and veggies, so one market trip could replace the need to hit up the grocery store. A cooler with ice packs can help keep items fresh in the summer heat and on the ride home. Think about payment too — most vendors will accept credit cards or contactless payment options like Venmo. Some farms may appreciate avoiding the fees for cash, so it's always a good idea to have some smaller bills on hand.
4. Scope it out before spending.
Take a lap through the entire market before you start stocking up. The reason? You may find a better deal or fresher selection the farther you go. If you immediately spend your budget at the first few stands, you could be missing out on more. Most markets will have an info booth with a map or vendor list. Ask employees where they like to shop — the locals know best!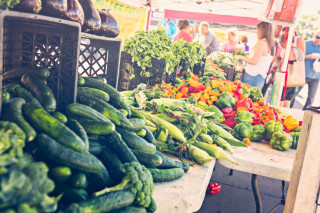 5. Manners matter.
Be kind to the vendors and their products. Many farmers market staffers report damaged produce from potential buyers overly squeezing or dropping items without purchasing them — leaving them unsellable for the next shoppers. Farm stand stock is hard-earned, so treat items with care. In the post-COVID world, be respectful of how much you touch items. Farmers also don't love haggling for a cheaper price – they work hard to sell what they grow at a fair price for fresh, often organic products. Plus, many will often throw in a few extras as a thank you — especially for repeat customers. If you have a chance to share a positive online or social review for their farm, these small business owners will likely appreciate it. Just be sure to ask if you snap a photo of those working the booth.
6. Talk about it.
Most farmers and market workers are passionate about their products — so strike up a conversation and everyone benefits! Ask them questions: how they grow or prepare items, what are their top recipe recommendations for using their products or even request help choosing the best items from their stock. Ask what's coming up in season next so you can help plan for future trips. Consider a small cash tip for those who spend time making your market experience even better. Times have been tough during the pandemic for food producers, so they'll appreciate the kindness and your business, especially if it's repeat visits.
If a recent market trip has inspired you to visit an actual farm — picking your own fruits and vegetables is one of the best ways to get the freshest produce available. Plus, it can turn into a great, family outing. Check this Michigan U-Pick Guide to help you find a nearby orchard. Another option if you're looking for convenience, having fresh and local produce delivered right to your door.