May is Mental Health Awareness month which is dedicated to spotlighting the importance of mental health, addressing stigma, and increasing access and understanding around mental health issues. Mental health is important to everyone's overall well-being, but you don't need to be having a crisis to seek professional help. Finding a therapist that is a good fit can be intimidating, but also rewarding. Use these six tips to get started.
1. Consult with your provider directory.
Many insurance plans will cover some or a certain number of sessions with a mental health professional. Make sure to check and see if your therapist or mental health office takes your insurance, as this can reduce the cost of sessions.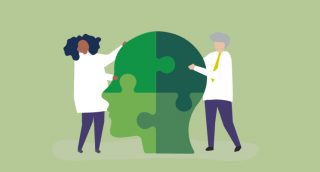 Check with your health plan to see what resources are available.  For example, Priority Health provides members with information like what kind of help is available, what your plan will cover and how to find a behavioral health provider to meet your needs.  An on-staff behavioral health team is available to help 24 hours a day, seven days a week. Call the number on the back of your member ID card (your call is completely confidential) or log in to your online account. Priority Health has also partnered with a digital health specialist to offer free access to myStrength, a self-help mental wellness tool with a variety of focus areas including but not limited to depression, anxiety, stress, and substance use disorders. Learn more here
An easy tool to use when looking for a therapist is psychologytoday.com, where you can plug in all sorts of information, including your insurance plan, therapist preference, and what you want to focus on. The tool will pull up therapists in your area that accept your insurance and fit any other criteria you select.
2. Think about what you want to accomplish.
Therapy is a very personal experience, and each person may go into it with different needs and goals. When looking for a therapist make sure to think about what types of goals you are looking to accomplish, as this may make it easier to narrow down a type of therapist you are looking for. Not all therapists are trained in the same style of therapy, so being communicative of goals or things you would like to accomplish can make the search project easier.
3. Learn about the therapist.
Many therapists have an online presence or bio about their style of therapy, what they specialize in, approaches they take and how they can best help you – sometimes they include a picture as well. This is a great way to familiarize yourself with potential therapists and get a sense of who they are before your first session.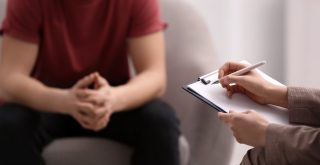 4. Look at their specialties.
Not every therapist uses the same techniques during sessions. Healthline does a great job of outlining some of the most common types of therapies:
Cognitive Behavioral Therapy (CBT) – Cognitive behavioral therapy is a short-term approach to mental health treatment. It's similar to behavioral therapy, but it also addresses unhelpful thought patterns or problematic thoughts. The idea behind CBT is that certain feelings or beliefs you have about yourself or situations in your life can lead to distress.
Behavioral therapy – A focused, action-oriented approach to mental health treatment. According to behavioral theory, certain behaviors develop from things you learned in your past. Some of these behaviors might affect your life negatively or cause distress. Behavioral therapy can help you change your behavioral responses.
Psychodynamic therapy – Psychodynamic therapy developed from psychoanalysis, a long-term approach to mental health treatment. In psychoanalysis, you can expect to talk about anything on your mind to uncover patterns in thoughts or behavior that might be contributing to distress. It's also common to talk about your childhood and past, along with recurring dreams or fantasies you might have.
5. Use your personal connections.
Family & friends – According to the CDC, 1 in 5 Americans will experience a mental illness in a given year. Which means it is very likely that someone you know is going to a mental health professional. Your friends and family are a great resource in helping you find a therapist or making connections for you to find help.
School – Schools usually have an on-site therapist, counseling center or health care worker who can help connect you with a therapist or help with mental health services.
Work – Many companies have Employee Assistance Programs (EAP) that offer ways to unwind, destress, and may have a direct line to a 24-hour counseling hotline.
6. Reach out to organizations that address your area of concern.
If you are struggling with a certain topic or area of your life, you may find it helpful to see if a local or national organization has resources or suggestions on how to find a therapist that deals with that area. Do not be afraid to call or email the organizations to find out more about the resources they offer or if they can point you in the direction of a therapist or group that can help you.
After you find a find a therapist and have your first session, you may still feel overwhelmed or uncomfortable. This is normal, but also know that you may not love the first therapist you go an see. Just like any relationship – make sure you trust them, feel comfortable around them and don't be afraid to try out more than on to find the right fit. Once you find the right fit, you are on the track to a much happier and more mindful life.
The bravest part about going to therapy is taking the first step to find a therapist and showing up to the appointment. It may not be easy in the moment, but you are much stronger just by asking for help.
These tips do not replace psychiatric or psychological help. Please consult your doctor or call a crisis hotline for immediate assistance. The information posted on ThinkHealth is not intended to be medical advice and should not be considered to be medical advice and should not replace consultation with a qualified physician or other health care provider. Always seek the advice of your physician or other qualified medical health professional with any questions regarding your medical condition. For potentially life-threatening injuries or conditions, call 911 or go to the nearest emergency department (ER).
If you or someone you know is going through a hard time, know there are help and resources available. You are not alone. You do not need to suffer in silence.
National Suicide Prevention Lifeline – 1-800-273-8255 – The Lifeline provides 24/7, free and confidential support for people in distress, prevention and crisis resources for you or your loved ones.
Crisis Text Line – Text HOME to 741741
The Trevor Project (LGBTQ+ Youth Support) – 1-866-488-7386
SAMHSA's National Helpline (Substance abuse) – 1-800-662-4357
RAINN Sexual Assault Hotline – 1-800-656-4673
National Teen Dating Abuse Hotline – 1-866-331-9474
National Eating Disorders Helpline – 1-800-931-2237