No matter what your priorities are when it comes to your health, there's a Medicare plan out there that will work for your needs. With built-in benefits like vision, dental and hearing coverage, plus no-cost fitness memberships, finding a Medicare plan that gives you more than just basic coverage is definitely possible.
For example, Priority Health has Medicare Advantage plans that start as low as $0 a month and include out-of-state travel benefits, a free gym membership and so much more. As you're shopping to decide on a 2020 Medicare plan during the annual enrollment period (AEP) Oct. 15 through Dec. 7, here are some health plan trends you should be on the lookout for:
Travel smarter with out-of-state benefits.
Looking for a Medicare plan that travels with you? Many plans are adding out-of-state benefits for snowbirds or frequent travelers. Like Priority Health—adding a new out-of-state travel benefit in 2020 for all of our individual Medicare Advantage plans. This means if you're a member who frequently travels out state, your coverage travels with you. So when you visit any Medicare-participating provider in the U.S. outside of Michigan, you'll pay the same in-network costs as you would in-state. Whether you're a snowbird or regularly go to another state and need care, you can go with confidence knowing you're covered, even for routine visits.
Check to make sure your Medicare plan also has built-in unlimited worldwide emergency and urgent care coverage, too, so you can travel close to home, or around the world, worry-free.
And most plans offer some type of travel assistance. For example, at Priority Health all Medicare plans also include Assist America® for global emergency travel assistance whenever members are more than 100 miles from home or in a foreign country. Assist America offers peace of mind while traveling, knowing that a single phone call will give members access to a vast network of resources to help coordinate care on your behalf during any medical travel emergency.
Get and stay fit with a free gym membership.
Many Medicare Advantage plans are now offering fitness incentives such as free gym memberships as a way to promote physical health and overall wellness. As one example, SilverSneakers® is a nationally-known fitness and lifestyle program included at no additional cost for Priority Health Medicare Advantage members.
Whatever fitness and gym perks your plan offers—be sure to take advantage. With a free fitness club membership, you can enjoy getting fit and improving your health by staying active. Plus—learn new exercises and try new workout classes designed by experts for adults of all ages, fitness levels and abilities.
Keep your eyes and ears healthy with vision and hearing coverage.
Being healthy means keeping your eyes and ears healthy too—so many insurance plans are offering hearing and vision benefits as standard. At Priority Health, all Medicare plans include routine vision from EyeMed providers and hearing coverage from TruHearing providers. This means members don't pay anything for a routine vision exam, and plans include a $100 eyewear allowance each year to help pay for glasses or contacts. They're also covered for a $0 routine hearing exam and can choose from four levels of hearing aids. Make sure your Medicare plan for 2020 keeps your eyes and ears in top shape all year long.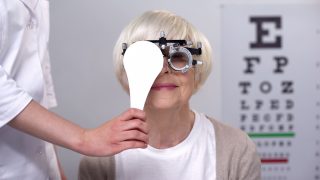 Smile bright with preventive dental care.
Oral hygiene isn't just about the health of your teeth—your oral health is often reflective of the health of your entire body. Many common health concerns have oral health-related symptoms, and some serious afflictions have an effect on your teeth and gums.
That's why many Medicare Advantage plans are including preventive dental services at no additional cost to you. For example, Priority Health has a contract with Delta Dental providing a large network of dentists. Plans include preventive exams, cleanings and one set of bitewing X-rays covered at no cost. Keep smiling throughout 2020 by ensuring your health plan includes preventive dental care.
Control your spending with an over-the-counter allowance.
From ibuprofen to cough drops, over-the-counter health purchases can really add up over time. To help with this issue, many health insurance providers are finding it's important to include an over-the-counter benefit allowance as part of Medicare Advantage plans. At Priority Health, many plans (there are some exceptions) include this allowance so members can purchase health and wellness products to support their overall care. If your plan is eligible, you'll receive a quarterly allowance to use on things like aspirin, cold medicine, compression socks and more. With Priority Health plans, there are three convenient ways to buy health items: shop in-store at Walmart and other participating store locations near you, call for delivery or order online with free 2-day shipping. It's a convenient way to keep your budget under control.
Stay social and supported with companion care.
Many seniors over 65 don't need assisted living or in-home care, but they do need help with transportation and errands. And most of all, many just want companionship while loved ones are busy with work and school. Check with your Medicare Advantage insurance provider to see if companion care is an added benefit as part of your plan.
Priority Health has identified this need and has partnered with Papa, a company that connects college students ("Papa Pals") to Medicare members with specific chronic conditions who need assistance with transportation, house chores, technology lessons, companionship and other senior services. It's available with select plans and an in-home health assessment with Priority Health Medicare's approved provider, Signify, is required to determine eligibility.
So remember, whatever your health needs—as you shop for a 2020 Medicare Advantage option, be sure your plan includes these six added benefits. Interested in learning more about Priority Health Medicare options? Compare plans here.