Spring break is near and so is your tropical cruise. That comes with a lot of excitement; including unlimited food, destinations, excursions, endless beverages and more. In the midst of all of that excitement, you may need to remember how to avoid illness as you sail the ocean blue.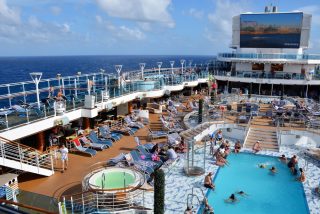 With recent cruise ship virus outbreaks making headlines, it's important to educate your charter on tips to follow while aboard in order to avoid illness. See our top 5 tips below.
Pack hand sanitizer and wipes. Cruise ships are strict on sanitizing, but it doesn't hurt to be prepared and continue to practice good sanitary precautions.

After you walk through the buffet line, be sure to sanitize your hands before you pick up that veggie burger or stack up a salad.
Wipe down all of the touchable areas in your room—sink, door and cabinet handles, phone, refrigerator, TV remote, etc.
Wipe down any tabletops and chair armrests.
If you visit the fitness center, be sure to wash your hands before and after using the facility.

Call or see your doctor. Cruise ships travel to less developed regions, so it's important to run your destinations by your doctor in case you're in need of any vaccinations. It's better to be safe than sorry.
Drink bottled water. While enjoying time off the boat at your destination, buy bottled water. Rather than risk drinking contaminated water, it's best to buy a bottle and continue your day of fun, happy and healthy.
Locate the medical center. Figuring out where the medical center is located on the ship may be the last thing on your mind. However, it's an important safety tip. Trust the experts when they tell you you'll want to know where it is if you do become ill.
Be aware of sicknesses around you. Lookout for travelers who are sneezing, coughing, etc. If you see someone who may appear ill, steer clear. If you see someone vomiting, inform a crew member so the mess can be cleaned up quickly and spreading germs contained.
If you find yourself experiencing a serious illness or travel emergency where you need assistance, check with your health insurance plan to see if travel assistance is part of your benefit package. For example, Priority Health members have access to Assist America® at no extra cost. It's available whenever members are traveling more than 100 miles from home or in another country. Coverage includes:
Medical emergency services: Access to quality medical care including medical referrals, emergency medical evacuation, prescription assistance and more.
Travel emergency services: Help with lost luggage or documents, legal and interpreter referrals and care of minor children and pets when experiencing a travel emergency.
Pre-trip planning services including visa and immunization requirements, security and natural disaster alerts and more.
Multilingual, trained and emergency-dispatch-certified assistance coordinators are available to help 24 hours a day, 365 days a year with one-touch access through the free app. For stays longer than 90 days, like overseas semesters or sabbaticals, members can pay an additional fee for the expatriate program service.
Not sure if your plan offers travel assistance? It's worth checking out. Learn more about what you should explore with your added health plan benefits here.
And as your sail away (which refers to both the beginning of a cruise vacation and when the ship leaves port) date becomes closer, be sure to remember these tips to help you avoid becoming ill and making the most of your time on the water.