By Deanna Dahlinger, RDN
The fall season brings decreasing temperatures and a cool breeze, making outdoor exercise more enjoyable. We also have the opportunity to enjoy the vibrant colors of the beautiful fall foliage while getting workouts done. Whether you enjoy walking, running, hiking or biking, get outdoors and head to your local Priority Health Fitness Court to make the most of your workout with these tips. 
Fuel up
Your body requires energy and nutrients before you lace up your sneakers and head out the door. This means planning ahead with a snack or meal beforehand to make sure your body is adequately fueled. Ideally, eating something at least 30-60 minutes prior to exercise will allow your digestive system to work its magic, digesting and absorbing food before your muscles start to get to work.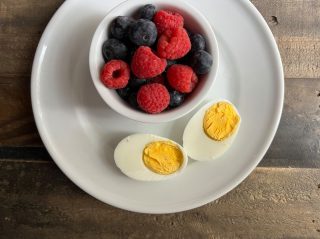 Since carbohydrates = energy, aim for something with an adequate source of carbohydrates, but also moderate protein and minimal fat.
Consider some balanced options such as:
A cup of plain Greek yogurt with a handful of berries

A sliced apple dipped in nut butter

A protein bar

A hard boiled egg with a small fruit

A banana with a small handful of nuts

A rice cake with nut butter and sliced banana
Stay hydrated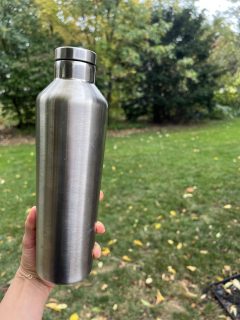 It's not always top of mind with cooler temperatures, but don't wait until you're feeling thirsty to grab some water. It's recommended to drink 2 to 3 cups of water before your workout and ½ to one cup of water for every 15 to 20 minutes of physical activity. Keep in mind, as the intensity of your workouts increase, so does the amount of water your body may need. Consider bringing along your favorite insulated water bottle to ensure your hydration needs are met throughout your workout and thereafter.
Layer up 
Dress in layers! Keep in mind, cotton holds onto moisture, making it a less than ideal choice for outdoor workout attire. You'll want fabrics that are quick to dry such as synthetic fibers like polyester, nylon, and polypropylene. Start with a thin base and include layers that are easy to remove such as a pullover sweater, vest, hat or headband, gloves, or an extra layer of socks.  
Add resistance training into the mix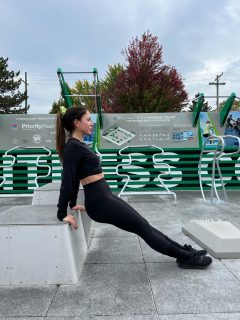 While it is recommended to get 150 minutes a week of moderate-intensity aerobic activity or 75 minutes of vigorous aerobic activity, they also recommend adding in 2 days a week of moderate- to high-intensity muscle strengthening activity. Incorporating this combination of aerobic and strength training has a strong and positive impact on many factors of health including blood pressure, blood sugar levels, and body weight along with influencing the overall risk for cardiovascular disease.
Consider an outdoor circuit with body weight exercises. Here's an idea for a quick 20-minute circuit you can do at a Fitness Court or just about anywhere:

Bring a friend
Friends who sweat together, stay together. Having a friend or partner can help you stick to a consistent workout schedule while also bringing extra motivation and encouragement. Consider a weekly workout routine with a friend, followed by a quick trip to your local smoothie bar!
About the Author: Deanna Dahlinger is a wife, mom, and registered dietician in Michigan who runs the lifestyle blog Dees Daily Dish. She loves sharing about fitness, healthy & easy meal ideas, and stories from motherhood that all parents can relate to.