By Deanna Dahlinger, RDN
As a mom, I know it can be so hard to make the time to step away to the gym especially when you have kids, errands, and other priorities taking over your life. This winter, I'm prioritizing staying on top of my physical health, and am sharing some tips on how I personally stay motivated to help inspire ways we can all stay active as cooler weather moves in!
Through my partnership with local health plan Priority Health, I'm sharing 5 ways that I stay motivated during these cold winter months and make my personal fitness journey one of my top priorities. One of my favorite parts about these tips and tricks are that you don't even need to leave your house to participate. There are an abundance of exercises you can do from the comfort of your home! In this article, you will find a workout using only resistance bands to get you moving.
Our bodies have an evolutionary bias during the winter months, as historically, this was a time when people hibernated. No wonder why it feels harder to stay motivated and consistent with a workout routine. With just a few simple strategies, it is possible to stay motivated year round, even during those dreary, darker, colder months! Here are some quick tips on how to avoid the winter rut and prioritize your health through being active.
Workout in the morning 
With the darker winter months ahead, motivation often fades as the day carries on. To break this rut, squeeze in a morning workout before you start your day! While it may take a bit of time for your body to adjust to a morning workout, anything counts. Even waking up an extra fifteen minutes earlier for a yoga and stretch session will bring you one step closer to your health goals. There are plenty of apps out there with short form workouts but my favorites are YouTube, TikTok, and even Instagram Reels.
Fun fact, cortisol levels are at their highest levels in the morning and as the day progresses, the amount of cortisol the body produces decreases. A boost of this hormone in the morning also comes with feelings of being awake and alert, which is just what you need to power through that workout!  
Plan your workouts for the week
Buy a weekly planner or use your handy old Google calendar to help you schedule your workouts. Set aside a few minutes over the weekend to sit down and plan out the week.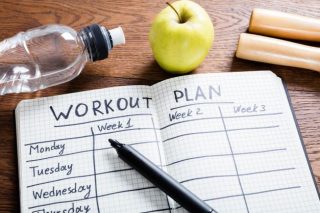 Consider pinning down specific time slots during your day when you are confident you are able to get to it – a brisk walk during your lunch hour or committing to a yoga class on the weekend. When you are planning your weekly workouts, think about including a combination of strength training and cardio, but be realistic with your expectations. Rest days are also an important piece to include to balance out your workout routine. 
Build in accountability 
We could all benefit from some motivation to stay committed to our exercise routine, and one of the best motivators is accountability! Sign up for classes such as yoga or swimming, buy a membership, or join a challenge to give yourself that extra push to stay accountable. If you're one for a challenge – Priority Health's Wellbeing Hub has a wealth of activities for their members to partake in this winter. For more information, visit www.priorityhealth.com and explore what resources are available to members.
Another way to bring more accountability is to think of someone in your life that has similar health goals and invite them to be your accountability partner. Whether they are someone who will join alongside your workouts, someone you can set challenges or friendly competitions with, or just someone you can talk about your progress to keep you motivated. 
Eat healthy
Nutritious foods make us feel energized and give our bodies the fuel it needs to workout. A balanced diet includes lots of vegetables and fruits, complex carbohydrates, protein, and healthy fats. Harvard's Healthy Eating Plate has a simplified guide that can be helpful when planning meals. I always recommend my clients to print out this image and post it on their fridge as a reminder when meal time comes around. 
Make exercise convenient 
If you don't want to brave the elements during the colder months, bring the gym to you with an at-home workout!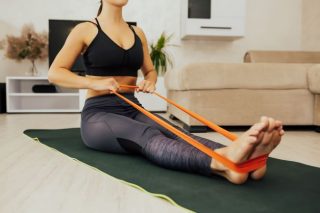 There are many alternatives that can still be as effective, giving you that heart-pumping workout your body craves. If able, consider investing in some low-cost exercise equipment such as resistance bands, a jump rope, a stability ball, or a yoga mat. Don't feel like you need to break the bank creating your gym, check out your local second hand store to find some new or gently used exercise equipment.
My favorite workout using just resistance bands is:
20 reps of side to back steps

15 squat jumps

20 reps of reverse plank abductors

20 reps of squat to back steps

10 reps of glute bridge abductors with 5 second pulses

15 reps (each side) of side plank abductors

20 reps of squat with leg lift
Whether it be through quick indoor exercises or planning healthier meals, there are so many ways that you can continue with your health goals this winter. If you're a Priority Health member, check out the WellBeing Hub to discover an abundance of exercise resources to keep you inspired. Don't let the cold weather deter you from prioritizing your health! 
About the Author: Deanna Dahlinger is a wife, mom, and registered dietician in Michigan who runs the lifestyle blog Dees Daily Dish. She loves sharing about fitness, healthy & easy meal ideas, and stories from motherhood that all parents can relate to.