If you're like a lot of people, you probably have a few health and wellness goals you're hoping to achieve this year, and are looking for any help you can find.
Sticking to healthy habits is hard, especially because those habits take a while to form. Luckily, thanks to modern technology, we can access motivation and inspiration anytime, anywhere with our smartphones and other devices. The past few years have seen an explosion in health and wellbeing-focused apps, which can be a huge help in sticking to your health goals. Here are a few of our favorite apps for tracking and keeping up with your 2021 wellness goals.
MyFitnessPal
Cost: Free (with the option to upgrade to premium for a fee)
Weight loss is a pretty common resolution, and for most, simply cutting calories by controlling portion sizes is enough to achieve weight loss goals. For calorie tracking, one of the more popular apps available is MyFitnessPal. The free version allows you to track daily calories, search through the over 6 million foods in their database and scan barcodes on food packaging for instant nutritional information. You can even import and log your favorite recipes. We should note: Don't rely on the app's daily calorie recommendation. Instead, speak with your doctor or a registered dietitian about your specific nutritional needs and come up with a customized daily calorie goal together. Available on the App Store and Google Play.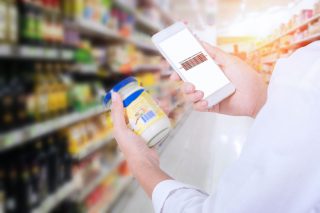 Nike Training Club
Cost: Free (with the option to upgrade to premium for a fee)
If you want to get in better shape this year, try a workout app like Nike Training Club. This Nike fitness app features a large library of workouts with visual cues and guides to help you through the exercise. Pick and choose which workouts you want to complete for a totally customizable workout regimen. Workouts run from 15 to 45 minutes and feature beginner, intermediate and advanced levels so you can join in no matter what your fitness level. Plus, Nike offers a great mix of body weight exercises and equipment-based workouts so you can exercise at home or at the gym. Available on the App Store and Google Play.
Plant Nanny
Cost: Free (with optional in-app purchases)
If you're aiming to stay hydrated this year, get extra motivation with the help of the Plant Nanny app. Perfect for those who like a little "gamification" to keep them on track with goals, Plant Nanny presents its users with various adorable houseplants that can only be kept alive by logging your water intake. Every time you meet your daily goal, your loveable plants get their own drink of water. Think of it like a water-logging Tamagotchi. But user beware: not meeting your water goals or failing to log your intake will result in sad (and eventually dead) plants. Meet your goals on a regular basis and the app will unlock new houseplants to add to your collection. Available on the App Store and Google Play.
Headspace
Cost: Free (with optional subscription)
Health and wellbeing goes beyond just diet and exercise—after all, mental health is health. If you're trying to feel less stressed and overwhelmed, give a meditation and mindfulness app like Headspace a try. With hundreds of meditations and mindfulness exercises available in the app, Headspace helps you learn how to relax and achieve calm and balance in your everyday life. Focus on your breathing and unwind at the end of a long day with a guided meditation session or take a mid-day cool-down with one of the app's mini meditations. You can even work on your sleep habits thanks to Headspace's specially designed sleep meditations to help you fall asleep faster and get better rest. Available on the App Store and Google Play.
Your health insurance app
Cost: Varies depending on provider
These days, most health insurance providers offer their members their own app to help them access their health plan information and documents. Priority Health's free mobile app, for example, helps members track their spending balances, search claims, compare costs of procedures with Cost Estimator, find in-network doctors and facilities and more. Many health insurance apps even offer the ability to schedule a virtual visit in the app so you can see a doctor any time, anywhere without having to go into the office. Check with your health insurance provider to see if they offer a mobile app — or if you're a Priority Health member, download the free Priority Health app on the App Store and Google Play.