If you love the fresh air, the feel of pavement or dirt beneath your feet, and the changing scenery, winter doesn't have to stop you from running outdoors. You can stay active – and safe – in colder temperatures if you prepare accordingly and follow these winter running tips.
1. Staying warm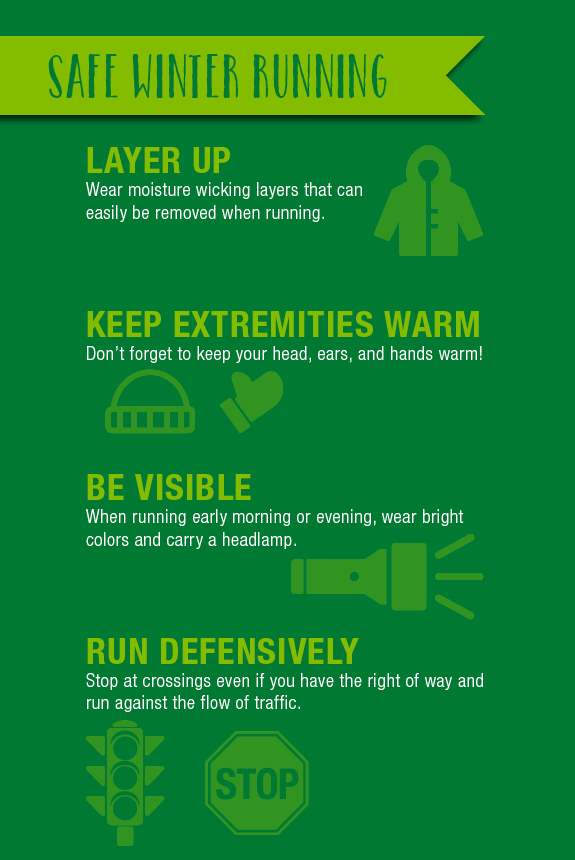 Layering is essential for winter running. Be sure to choose moisture wicking layers that you can remove if you warm up more than expected. How do you know you're warmed up enough? A good indicator is to start off with stretching and some activities before you hit your course. If you get your heart rate up for 5-10 minutes, you may realize you don't need that heavy coat you originally planned on wearing. It's also important to keep in mind factors such as your body size, run duration and intensity of workout when layering.
2. Keeping warm
It's important to keep your upper body warm once you're running, especially your head, ears and face. Often, you can lighten up on your apparel if you have some good gear to keep your head warm. And don't forget those gloves. Many athletic brands now rely on wicking fabric gloves, as they can keep you warm while also providing a comfortable fit. In fact, your hands may even break a sweat before your workout is over.
3. Being visible
Another important factor to remember in winter running is visibility. Be sure to wear bright colors and consider purchasing a headlamp or arm light if you are running in the early morning or evening. With snow, ice and mud, as well as shortened days with less daylight to contend with, many drivers may not notice you as easily.
4. Being aware
Always run defensively. Even if you carry a neon flashing sign, some drivers may not see you. Be sure to stop, even if you have the right of way, at crossings and run against the flow of traffic. Especially when the sun starts to set earlier, make sure you refrain from running on the roads and use sidewalks whenever you can. Running with a friend (or two, or three) can also be helpful, as they provide an extra set of cautious eyes.
Running in the winter months can be a great way to stay focused on your health, feel peaceful and a way to stay motivated to beat the winter blues, so don't let a little Michigan winter slow you down.