Maintaining your exercise routine throughout the winter months is not only important to your physical health, but can also greatly benefit your mental health. In a given year, about 5 percent of the U.S. population experiences seasonal depression. Staying active releases endorphins, which helps combat those winter blues.
Boost your physical and mental health by staying active this winter. Here are 10 ideas to explore. 
1. Go on a winter walk or run.
If the road and sidewalk conditions allow, walk or run outside to not only work your heart and muscles, but also soak in some vitamin D. Another great option is to walk along a maintained walking trail where you can see the Pure Michigan winter beauty in full effect. Just make sure you bundle up to protect yourself from the cold.
2. Snowshoe.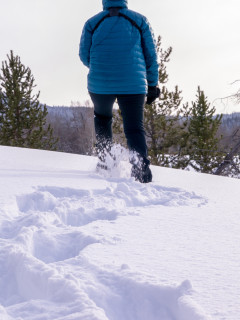 Want to take amp up your winter hike? Head out in the snow with a pair of snowshoes on. This allows you to take the trail less traveled. This type of exercise is also efficient when it comes to burning calories, on average burning 472 calories per hour.
3. Play in the snow.
Not only is playing in the snow a great way to spend time as a family, but you can also incorporate a significant calorie burn into the activity. Build a snowman or a fort, have a snowball fight, go sledding or create a winter obstacle course.
4. Pick up downhill skiing or snowboarding.
Michigan ranks second in the nation for number of ski areas, with a total of over 40 across the state. These destinations are perfect for all levels of skiers, beginners to experts. Bundle up the family and head to a ski area near you for some active winter fun. 
5. Try cross country skiing.
Cross country skiing can burn up around 472 calories per hour. Fortunately, Michigan has more than 3,000 miles of cross country ski trails to help you burn extra calories while exploring. Make sure to dress in layers since cross country skiing can often make you sweat.
6. Go ice skating.
Ice skating is a fun winter activity with aerobic and muscle enhancing benefits. Many places build outdoor rinks during the winter months, or you can always head to your local indoor ice rink to get your workout in. 
7. Go tubing or sledding.
Bundle up the family and find an open hill to tackle. Many winter resorts offer tubing tracks. Stick to walking up the hill instead of using the lift to help you stay warm and burn extra calories. Plus, the ride down is sweeter after making the trek uphill.
8. Attend a hot yoga class.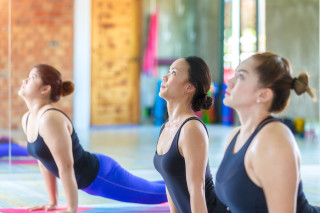 Tired of the continuous chill outside? Head to your local yoga studio for a hot yoga class. With rooms heated between 90 to 100 degrees, you'll be sure to warm up as you flow through the sequence and sweat out those unwanted toxins. 
9. Exercise at home.
If you're not in the mood to head out into the elements, cue up a workout video, search the web, or try out the latest app and get moving with an at-home workout that requires minimal equipment.
10. Try a new workout studio.
A workout studio may help keep you on track during the week when it's more challenging to exercise outdoors. Plus, you may realize you have more energy in a group setting. Spin, Zumba, kickboxing, and high intensity interval exercise classes are good cardio alternatives and could help you fid your exercise groove. 
Bonus: Be mindful about what you eat.
The cold and dark winter months often lead to comfort food cravings for warm, delicious treats. And many winter recipes call for extra cream or cheese for thicker soups or casseroles. Instead, keep in mind the importance of plain and simple vegetables, whether served raw or roasted. As always, moderation is key and sticking to a diet filled with  healthy foods will help keep your spirits up.
Winter is the time to switch up your routine without losing your workout consistency. There is an abundance of fun, healthy winter activities to try out in Michigan. Plus, many are family-friendly and will help everyone stay active. So, grab your gear and try something new.