While winter running can pose many challenges for runners, clear roads in the spring make for great racing opportunities. With so many fun and unique races happening around Michigan, there's something for everyone, no matter what your skill level may be.
Here are nine of the state's go-to races for 2020 to keep in mind as you're training and planning.
This women-only event offers an array of race distances and is great for any first-timers. The course starts and ends at Calder Plaza in the heart of downtown Grand Rapids, and all participants receive a New Balance tech shirt along with finisher medals for each distance. Gazelle Girl is always a great opportunity to set new personal bests and meet other local female runners.

Tulip Time Run
Get into the spring spirit with a race through the beautiful city of Holland, enjoying rows and rows of impressive tulip displays during the annual Tulip Time Run, which includes a 5K, 10K and kid's fun run. The Holland area boasts nearly five million tulips planted and more than 200,000 around the city center. All those flowers equal a great run with an even better view.
With its festival environment, the Borgess Run includes races ranging from 5K to a full marathon. Starting and finishing in the race's own "Tent City," runners can enjoy live music, food and refreshments. A rightful celebration, be it your first 5K run or your fifth marathon.
A perennial favorite, the River Bank Run takes place in downtown Grand Rapids and features largest 25K road race in the country, which doubles as the American championship for the event. The day also includes a 5K run and walk, a 10K and 25K hand cycle and wheelchair races. Similar to Borgess, finishers are treated to a post-race festival featuring beverages, concessions and even a post-race massage.
With roots that go back to a 10K first held in 1973, the event today now also boasts a 5K, 15K and half marathon. The races provide spectacular views of Traverse City's vineyards and cherry orchards, made more glamorous in the midst of Michigan summertime.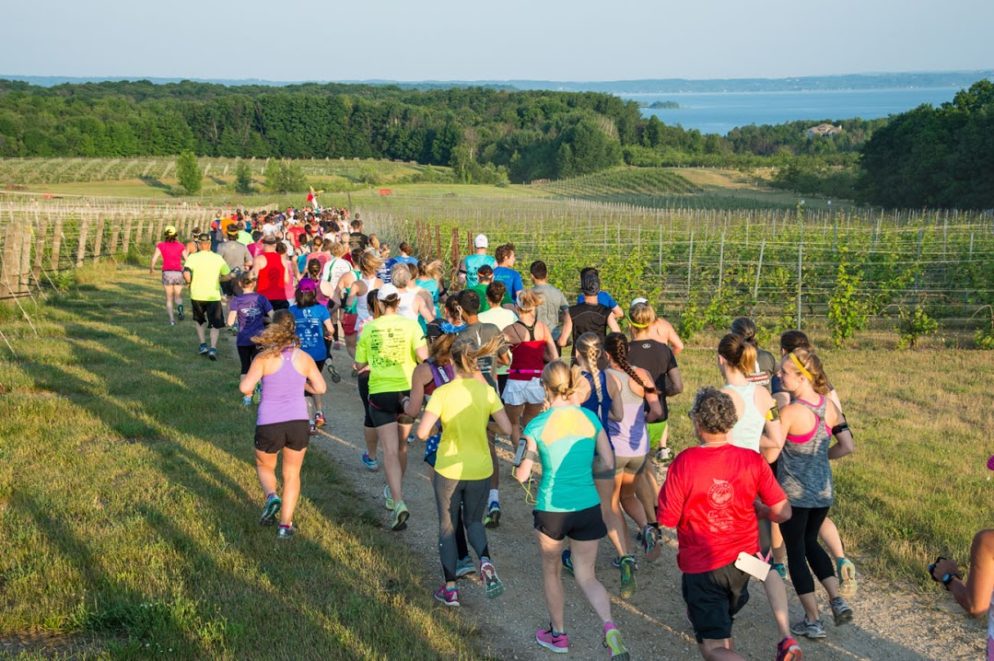 Also located in beautiful Traverse City, this event boasts a flat and fast course for 10K, half and full marathon distances. Bayshore provides a perfect opportunity to set a personal best while also showing off some of the best views of the area's Old Mission Peninsula. If this sounds like the race for you, sign up immediately since there's a participant limit for all races.
What other race in Michigan allows you to run across a country border? Join 30,000 other runners for this incredible opportunity to trek through the Ambassador Bridge into Canada and then back into the United States through way of the Detroit-Windsor tunnel.
For west siders of the state (and anyone traveling west for the weekend), the Grand Rapids Marathon has been a favorite for both seasoned runners and general fans of the fall season. This October race gives a tour of all the fall colors that the city perimeters have to offer. For anyone not up for the full marathon distance, the annual Run Thru the Rapids is held the day before, featuring a 5K and 10K race.
Runners who are feeling lucky should test themselves in this 5K race around East Grand Rapids. The Irish Jig has quickly become one of the state's premier road races, thanks to the fast course with a few rolling hills. Start your St. Patrick's Day weekend off on a fast note with this race.
Looking for other races around the state of Michigan? Check out this helpful online calendar. No matter where the Michigan roads take you, happy running in 2020!