Michigan winters are a perfect backdrop to keep your fitness activities in full swing through the chillier months.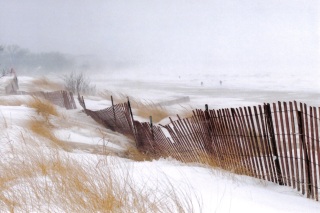 Not only does Michigan offer picturesque views of the frozen Great Lakes and snow covered greenery, but since Michiganders are used to the colder temperatures, it also hosts some of the most epic winter running races around!
Just because snow is on the ground doesn't mean you can't slip on some running shoes and go racing. Here are our recommendation for the top 10 races to run this winter.
Fifth Third Turkey Trot – Detroit – Nov. 27, 2014
Thanksgiving Day has the most running road races of any day throughout the year nationwide and the Fifth Third Turkey Trot is the largest race in America that day. That should be reason enough to lace up your running shoes. You can run a 5K, 10K or the Drumstick Double, completing both the 5K and 10K back-to-back. Regardless of the race you run, once you're finished, you may enter the Cobo Center for water, bagels, holiday cookies and other nourishment. After refueling, just head on down Woodward Avenue to enjoy America's Thanksgiving Parade.
Not able to make it to Detroit on Thanksgiving? Here are a few other Turkey Trots happening throughout the state: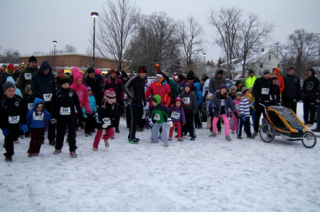 2.  Jingle Bell Run/Walk – Grand Rapids – Dec. 13, 2014
Mix a little activity with shopping, baking and holiday parties this year by running in the Grand Rapids Jingle Bell Run/Walk. The event includes a 5K and a quarter mile fun run for kids 12 and under. Everyone is invited wear a holiday themed costume. Tie jingle bells to your shoelaces and raise funds to help find a cure for arthritis. After the race, you can warm up with the soup and chili party.
Interested in a holiday-themed run, but want to do one in your area? Here is a look at other races around the state:
3.  Bigfoot 5K and 10K Snowshoe Race – Traverse City – Jan. 17, 2015
Trade in your running shoes for snowshoes and join the fun at Bigfoot Snowshoe Race. Even if you haven't used snowshoes before, the Bigfoot Snowshoe Race is VERY beginner friendly and many of the runners alongside you also will be strapping them on for the first time. There's a 5K and 10K course available.
4.  Winter Wolf 2015 – Omer – Jan. 17, 2015
The Winter Wolf is based on the story of the Witchy Wolf that roams the wilderness of Omer Plains. Just like the wolf, racers will roam/ run about 15 miles through the infamous plains. There is some equipment you'll need for this race however – headlights and taillights. Why? Because the race has a 6:30 p.m. start. Oh, and Jan. 17, the day of the race, is a full moon.
5.  Super 5K – Novi – Feb. 1, 2015
Superbowl Sunday doesn't only have to mean eating copious amounts of junk food while watching football on the couch all day. Start it off right with a race, The Super 5K includes a tailgate atmosphere at Novi High School and a quick 3.1 mile run or walk. After crossing the finish line, you'll receive a finisher's medal and a pint glass.You also will have earned your spot on the couch!
6.  Michigan Adventure Race – Winter Edition – Rockford – Feb. 7, 2015
Over the past couple of years, the Michigan Adventure Race series has risen to fame among racing enthusiasts in the state. The Winter Edition of the Adventure Race is no exception. It is the largest winter adventure race in the country. What makes it so unique? You'll be searching for checkpoints on foot, by snowshoe, and fatbike. Amazing Race-style challenges and orienteering also is involved.
7.  Cupid's Undie Run – Detroit – Feb. 14, 2015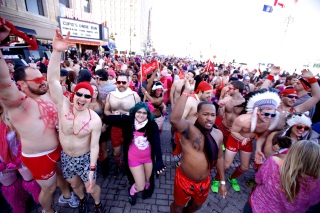 It's just as the name proclaims. It's a mile long fun run in your undies. It takes place on Valentine's day and is a charity race for the Children's Tumor Foundation. Cupid's Undie Run is not for the faint of heart seeing as you are running with little clothing on during one of the coldest months in Michigan. You won't be doing it alone though. There are dozens of other cities around the country participating at the same time for the same great cause!
8.  Winterblast Half Marathon and 5K– Portage – March 1, 2015
If you're really ambitious and want to run a half marathon in the winter, the Winterblast Half is your best bet. The course is made up of paved bike trails and roads that highlight the park system throughout Portage. For those of you not quite ready for a half marathon, there's a smooth and easy 5K as well.
9.  Kona Shamrock Run – Plymouth – March 8, 2015
Toward the tail end of the winter running season, some of the best races are in celebration of St. Patrick's Day. The Shamrock Run in Plymouth offers a 10K and 5K run/walk. Racers are invited to wear a rocker costume or anything green.
10.  2015 Irish Jig – Grand Rapids – March 15, 2015
A staple race in the West Michigan area for St. Patrick's Day is the Spectrum Health 2015 Irish Jig. The USA Track and Field certified course is mostly flat with a few gentle hills. This race is a great way to "end" your winter running season and "kick off" your spring training!