The holiday season brings joy, but it also brings food and stress. With holiday office parties, ugly sweater festivities and family gatherings, it can be difficult to stay on track with your health. Not only is there too much food and alcohol, but there's less time to stay active—leading to weight gain.
Let's not add more stress to the joyous season. We've compiled a helpful list of things you can do to swap in and swap out and keep your holidays healthier.
Baked Goods
If you're bringing baked goods to your holiday party, try swapping out ingredients for a healthier alternative that guests won't even notice. Whether you're baking Grandma's coveted chocolate chip cookies or Aunt Sally's beloved banana bread, take advantage of the swapped ingredients below.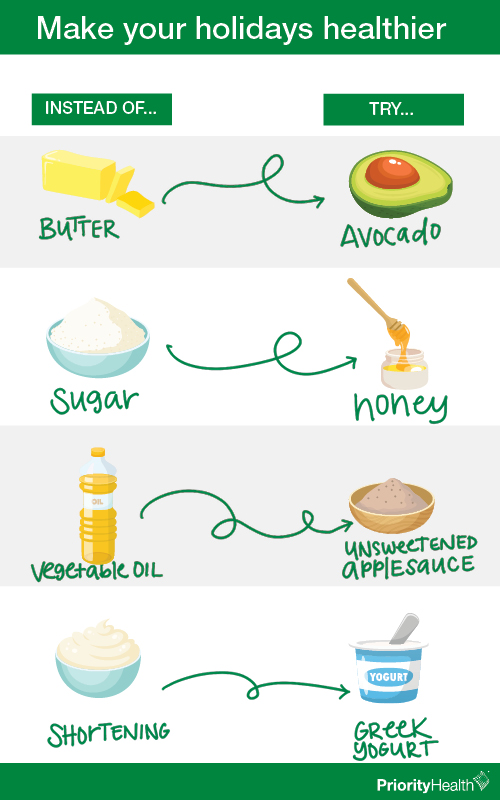 Appetizers
Everyone loves to hover over the appetizer table. It's usually filled with chips, cheese and meat platters, candied walnuts, baked brie and more. Those are all wonderful snacks, but they pack on the calories—and fill you up—before the grand meal even begins. Take advantage of healthier appetizers so you're not overly full before your dinner. For example, swap out the chips and provide vegetables with hummus. Hummus is packed with plant-based protein, fiber and vitamins and minerals. That's a gift wrapped up in a salty, garlicky bite.
Alcohol
Many partygoers partake in the special punch, liquor, sodas, cranberry juice, beer, wine—you name it. Alcohol is generally involved when there's a celebration. To keep your liquid calories in check, try sticking with wine. Wine has fewer calories than most alcoholic drinks. If you want to go a step further, red wine is best because it contains an antibiotic believed to have healthy heart benefits. Drink smart and be sure to enjoy plenty of water throughout events to stay hydrated.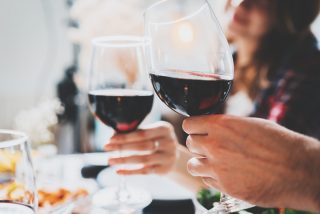 Activity
This season of festivities doesn't allow much time for physical activity, which is a necessity for all of the extra food and drinks consumed. It's important to take time for your health. Swap sitting on the couch after dinner with a family walk—don't forget to bundle up! This is an easy swap to incorporate at the office as well. Rather than sit at your desk during lunch, go to your local fitness center and walk on the treadmill for 30 minutes. Remember, every little bit counts.
Stay smart this holiday season and swap out some bad choices for better options. It's the most wonderful time of year, so enjoy it while still staying on track with your health.