As a teenager, Priority Health HMO member Brenda Duquette was nicknamed "beanpole." Today, the 59-year-old from Lambertville, Michigan (just one mile from the Ohio border) proudly rides her Harley, works out five days a week, and knows she's strong and energetic enough to be able to enjoy an active lifestyle for many years to come.
Making fitness a part of her routine is something she's become even more committed to after watching her mom struggle with tough health issues.
"My mom is 88 years old. A few years ago she fell and broke her back. While she was an active person all her life, she never exercised for fitness. I believe that as a result, she really never recovered from that injury. Physical therapy was overwhelming—she had never before had to push her body to improve. Her life was drastically changed affecting her physical and mental health. She has lost much of her independence and her perspective on life is not near as positive as it had been."
Brenda has always been active in some way since graduating from high school, moving from power walking at lunch to aerobic exercise to weight lifting and training with her husband Scott. She even won a body building contest at age 39—beating out ladies much younger. Recently watching her mom struggle has made Brenda realize it's more important than ever to stay committed to fitness as she ages. As she says, "Age is just a number!"
So, how does she stick to her routine?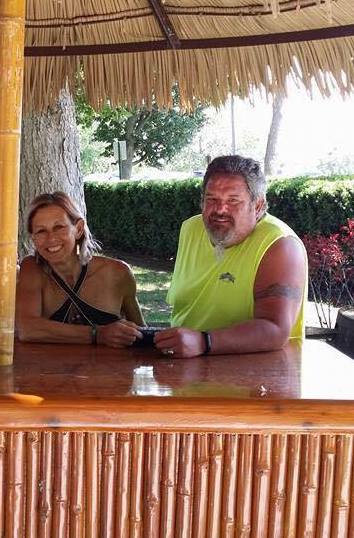 Workout time needs to be scheduled, and challenges with support are key.
For Brenda, her schedule is morning workouts Monday through Friday, waking up at 4am to be at the gym by 5am for strength training and cardio. She admits this isn't easy, especially making sure she can get to bed early enough the night before when she's busy. She'll include a Saturday workout as well, allowing herself an extra hour of sleep for a treat.
She joined Anytime Fitness in 2015, the year she became a Priority Health member through her company's health plan.
"My previous gym didn't offer flexible hours, so the 24-hour aspect is ideal for me. Bonus when I learned that Priority Health offered a discount to join!"
She purchases weight training and cardio training plans from a competitive fitness expert she trusts and follows. Challenges focus on a specific goal such as getting lean, building muscle, getting in shape and more.
"Each challenge offers prizes, but the information and support received from these challenges and being a member of the online communities is life-changing. My fellow members are my support group and we build each other up. It's really amazing to be able to connect in these groups."
She also follows others who are fitness-minded on Facebook and Instagram, plus a number of websites. "There's so much valuable information just a click away on my smartphone or computer. I have a fitness watch that allows me to track my heart rate, steps and sleep—and easily see the improvement resulting from my gym visits."
Nutrition matters and planning with tracking is a must.
Brenda lives by her MACRO-based meal plans (tracking Protein, Carbohydrates, and Fats to reach a specific total each day) using an Excel spreadsheet, which she calls a little "old school" compared to tracking apps others use. She also meal preps on Sundays as often as she can, making sure she has all of her ingredients on-hand for meals for the week.
"The beauty of MACROS is that you can switch out foods to avoid monotony and be creative. I love food and cooking, so this allows me to be me while eating for my goals."
But don't deprive yourself completely.
Brenda says the summer is the most challenging to stick to her meal plans since she enjoys riding her Harley Davidson Fatboy motorcycle with her husband out to dinner. They also spend a lot of weekends enjoying a nearby lake.
"I do give myself leeway; our summers are so short in Michigan. It's a challenge when going out with friends or out to dinner to stay on exactly on the meal plan. I do allow myself to enjoy off-plan foods, I just don't make it a habit."
Be a champion for a healthier lifestyle for others at home or at work.
In her role as senior sales administrator at a start-up, Brenda says she's fortunate to be able to provide ideas and input to her company's health initiative.
"We've had a step challenge and a hydration challenge this year. A company goal that I will help our team accomplish this year is a fitness challenge with helpful resources such as guest speakers and more."
Find the willpower after the motivation.
Every day Brenda wears a dumbbell shaped necklace with her favorite motivational Bible verse engraved on it to keep her focused: "I can do all things through Christ who strengthens me." (Philippians 4:13)
Ultimately, she says the key to success in staying dedicated to her healthy, fit lifestyle is willpower.
"A fitness friend shared this quote and to me it sums it up perfectly:
Motivation is the fun stuff, the sexy stuff, the flash.
Willpower is the hands-on, in-the-trenches work.
Motivation is the spark that starts the fire.
Willpower is what makes sure the fire keeps burning.
Motivation is great, but it's not what you need to keep going.
Some days it will be there, and some days it won't.
Instead of looking for ways to stay motivated, you should look for ways to develop discipline, willpower, self-control.
These are the tools that will give you long term results."
The teen girl who was once called "beanpole" as a nickname now proudly admits how her husband has nicknamed her "gym rat." And she's not slowing down anytime soon.
"I just want to continue to feel great, be active, enjoy life."
Looking for your own willpower support group?
The Priority Health Champions program is a group of people focused on getting and staying healthy while inspiring others to follow suit. This program is open to everyone who has a passion to be and stay active and healthy. Champions are a close-knit group of people across the state of Michigan who come together to compete in races and walks, and share insights on how they're living healthy lifestyles. To learn more about the passionate people that make up the Priority Health Champions community and to sign up, check out priorityhealth.com/champions.