By: Nathan Foco, Senior Director, Market and Sales Intelligence
It's no secret that paying for health care can be a costly endeavor.
Since 2011, family insurance premiums for employer-provided health plans have increased 20 percent, while workers' wages have remained largely stagnant over the past three decades. Consumers also have more of their personal finances at stake with high-deductible health plans becoming more popular, requiring them to pay more in out-of-pocket costs for procedures and specialty visits. Nationally, over 50% of individuals are enrolled in a plan that has a $1,000 deductible or higher.
As a result, people want to know more about their health care choices and costs. The problem, however, is that they historically haven't been given enough information to make fully informed decisions.
In an industry where costs are often far from clear and a personal responsibility where every dollar counts, it's more important than ever for insurance companies to lift the veil on health care pricing and empower consumers with the information and tools they need.
At Priority Health, we are working to put our members in control of their costs and care by providing them with forward-thinking, innovative solutions and resources aimed at increasing cost transparency.
That's why we developed the Priority Health Cost Estimator tool, which gives our members instant access to cost information for hundreds of health care procedures in a way that is personalized to their individual health plan. Many people don't realize that procedure prices can vary by hundreds based on the facility that you choose to receive care. For example, a knee arthroscopy surgery can range from nearly $1,280 to more than $11,000, while a colonoscopy can cost you around $579 to $3,601, depending on the provider and facility.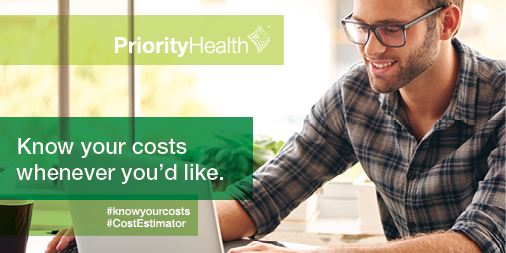 Through this user-friendly tool, consumers can find out up front how much a doctor visit or surgery will cost and then shop around for the best option. The Cost Estimator does not provide a range in price, but is personalized to each and every member and the cost is based on their specific plan benefits. It also factors in the members' out-of-pocket responsibility to provide an accurate estimate. With this information, members can make informed decision about their care.
In just two years, our Cost Estimator has a shared savings of $6.3 million in total medical costs. The tool is a proven money saver, as utilization has steadily increased to 10% of commercial members, which exceeds the industry average of 3%.
In our continued commitment to providing members with the true costs of care, Priority Health is constantly looking for new ways to enhance the tool to meet member demands. We recently expanded the list of services giving members access to the most searched and billed procedures, such as behavioral health, physical therapy, vaccinations, eye exams and dermatology visits. The tool now also features prescription costs, so consumers have the ability to determine the cost of their prescription before they arrive at the pharmacy counter.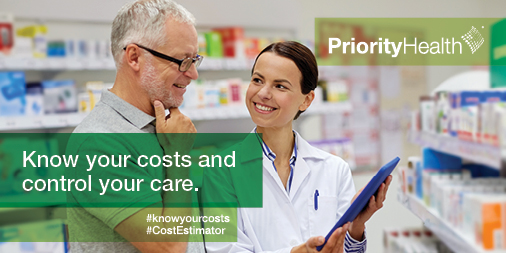 Transparency is the future of health care. Priority Health is committed to making the process simpler. We are exploring ways to provide more information on doctor feedback, quality scores and medical procedures for consumers. If we are going to address the rising cost of care, we must provide our members with the information they want and empower consumers to be smart, healthy shoppers. It's about making sure they can get the best value care, at the right time and the right place.
About the Author: Nathan Foco has over 15 years of experience in the health care industry. Currently, he serves as Senior Director, Market and Sales Intelligence at Priority Health. He has held numerous leadership positions in the areas of market research, consumerism, reporting and consumer analytics, business development and sales support. Nathan has a thorough understanding of trends in our industry and is a key contributor to strategic discussions around product and sales development.