Yet, many people are still hesitant about purchasing a narrow network plan. The benefit of a narrow network health insurance plan is that it offers you and your family coordinated care with one health system at a reduced monthly premium.
However, there are some common misconceptions about these plans that might dissuade you from exploring this option. Here are three myths debunked about narrow network plans.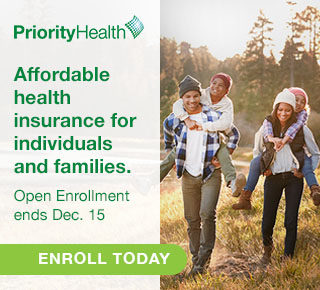 Myth No. 1: I won't be able to see the doctor I want.
As the name implies, these networks are narrower than other plans. A narrow network is connected to one specific health system. For example, Priority Health offers narrow network plans with Spectrum Health System, Bronson Health System, Beaumont Health System, St. John Providence Health System and St. Joseph Mercy Health System.
You may already receive care from one health system because it is convenient and leads to more coordinated care delivery, making a narrow network plan a great choice.
When exploring narrow network options, check to see if the plan includes your preferred physicians and hospitals. It's important to look up the network affiliation for your primary care physicians, pediatricians and specialists before you chose a narrow network plan. If your ideal providers don't participate in the plan you're considering, look for an alternative.
If your preferred doctor is not part of a narrow network plan, but you still think it's the best health insurance option for you and your family, take the time to find a recommended in-network provider, transfer your medical records and start to build a relationship with the new provider before you get sick.
Myth 2: Expensive coverage leads to better care. 
Nobody wants to compromise when it comes to their health, and it's easy to think the most expensive coverage would be the one with the highest value. But with health insurance, one size does not fit all.
While it might make sense for someone with a chronic illness to pay for additional coverage, a healthy individual likely won't use all the added providers and services that come with pricier plans. And while you can't always anticipate illness, you can shop around to make an educated decision that benefits your family, your wallet and your well-being.
Myth 3: It's hard to find out what doctors are "within network."
It's now easier than ever to find out information about specific network capabilities. Insurance companies offer tools to help you determine which providers are in network. For example, Priority Health's Find a Doctor tool allows members to search from a list of high quality, in-network doctors when searching for a provider. For additional assistance, reach out to your preferred provider or specialist and ask whether they are in-network for your desired plan.
Narrow networks require that you receive care with a specific health system of doctors and hospitals in exchange for a lower monthly premium. While this option is not for everyone, they are an excellent tool for consumers who are looking to save money and may already receive care from one system. Look into your options during this year's Open Enrollment Period, which runs from Nov. 1 to Dec. 15, 2017, to see if a narrow network plan is a good choice for you and your family.