If your premium has increased, your health has changed or you're just exploring available Medicare options, there's a lot to consider.
The process can feel overwhelming. By breaking the information up and looking at one component at a time, you can more easily evaluate your options and choose the best plan for your needs.
This checklist can help you determine what elements to consider.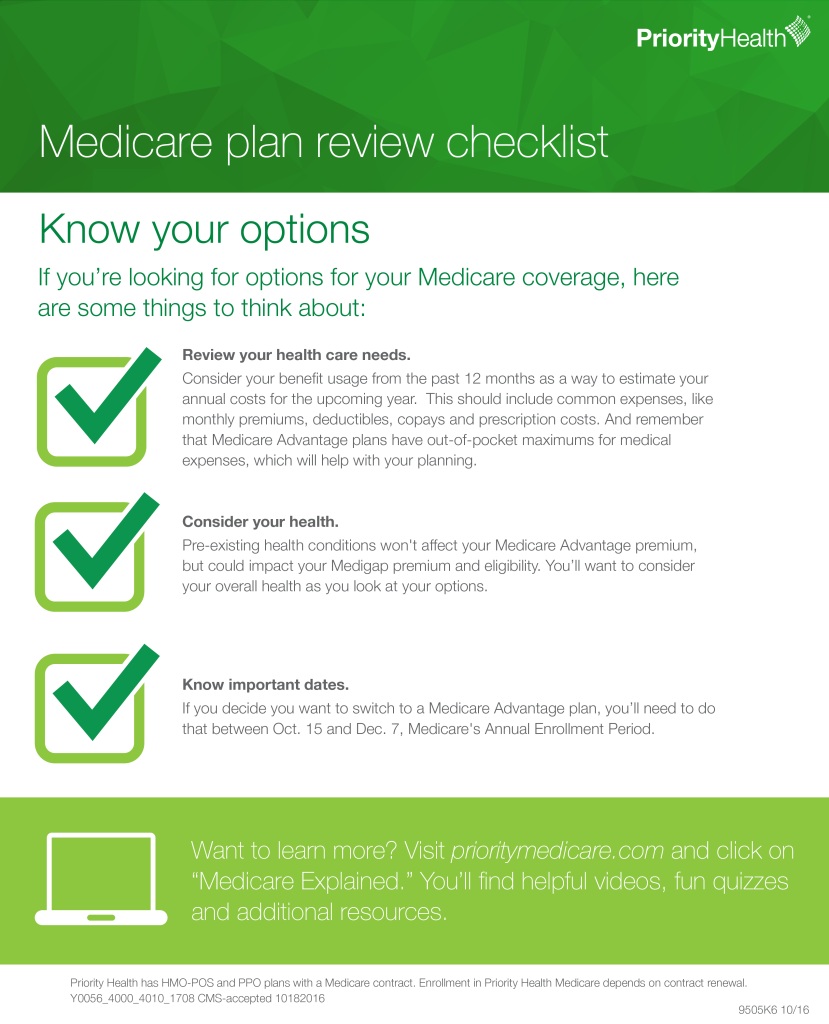 Once you've identified your needs, it's time to start shopping.
Learn about all available options.
Original Medicare consists of Part A (hospital coverage) and Part B (medical coverage). This is the most basic option. Offered by the federal government, Original Medicare covers about 80 percent of your medical expenses. Prescription coverage is not included in Original Medicare so you'll need to purchase Part D for your drug coverage needs.
Many people choose a Medicare Advantage or Medigap (Medicare Supplement) plan, offered by a private insurer, to help cover the remaining 20 percent of expenses not covered by Original Medicare. 
Discover the difference between your supplemental options: Medicare Advantage and Medigap.
Both Medicare Advantage and Medigap plans have a monthly premium in addition to your Part B premium. However, some Medicare Advantage plans have premiums as low as $0 per month.
Medicare Advantage plans offer everything Original Medicare does, plus more. Most include prescription drug coverage and extras such as dental coverage, gym memberships and services to help you manage your health. Medicare Advantage plans tend to have lower monthly premiums and offer a network of doctors, with some also offering out-of-network coverage. You can not be denied or charged a higher premium because of pre-existing health conditions.

Medigap plans work side-by-side with Original Medicare and help pay deductibles, coinsurance or copayments that Original Medicare doesn't cover. A Medigap plan does not include prescription coverage, so you'll need to purchase a Part D plan separately. With a Medigap plan, you can go to any doctor that participates with Medicare. But there is only a small window of time that you're able to join a Medigap plan without having a health status review to determine the premium you will pay. This is called your guaranteed issue period. Depending on your health status, you could be required to pay more for coverage if you apply for a Medigap plan outside of this window.
Determine the right time to switch plans.
If you're thinking of switching from a Medigap plan to a Medicare Advantage plan or enrolling in a new Medicare Advantage plan, you'll have the opportunity to do so between Oct. 15 and Dec. 7 of each year – Medicare's Annual Enrollment Period. During that time, you can enroll in a Medicare Advantage plan and not have to worry about pre-existing conditions, you just have to be eligible for Medicare
Think about your travel needs.

Medicare Advantage plans are organized around a network of providers, usually within a specific region or state. However, all Medicare Advantage plans include coverage for emergency and urgent care, including a hospital stay if you need to be admitted, no matter where you are in the United States. For other services, you will generally pay less for services from an in-network provider, although most plans can offer out-of-network coverage options.*
With a Medigap plan, you get the flexibility to see any provider who accepts Medicare throughout the United States.
Calculate expected expenses and potential savings.
You'll typically pay less in monthly premiums with a Medicare Advantage plan. Those premiums start as low as $0 per month and can go up to $200, with many levels in between to meet different health care needs. Since most Medicare Advantage plans include prescription drug coverage (called MAPD plans), you won't have a separate monthly premium for a Part D plan. Medicare Advantage plans also have a maximum out-of-pocket amount for medical expenses so there is a cap on how much you'll pay out-of-pocket per year.
Medigap plans generally have higher monthly premiums. For example, the premium on one of the most popular plans, Plan F, starts at over $100 and can go up to nearly $500 in Michigan. And, with a Medigap plan, you'll need to purchase Part D coverage separately and those premiums can range from $18 to more than $50. As a trade off for a higher monthly premium, your costs at the time of care such as copays are reduced.
You have options when it comes to your Medicare plan. You can make the right decision by learning about your plan choices, looking at your health care needs and looking at what's important for your lifestyle.
To learn more, download Priority Health's guide to selecting the right Medicare plan, contact Priority Health at 866.544.4465 or visit prioritymedicare.com. You can also visit medicare.gov to see what plans are available near you.


Priority Health has HMO-POS and PPO plans with a Medicare contract. Enrollment in Priority Health Medicare depends on contract renewal. NCMS_4000_4001_1730AD 11082016
*Out-of-network/non-contracted providers are under no obligation to treat Priority Health Medicare members, except in emergency situations. For a decision about whether we will cover an out-of-network service, we encourage you or your provider to ask us for a pre-service organization determination before you receive the service. Please call our customer service number or see your Evidence of Coverage for more information, including the cost-sharing that applies to out-of-network services.