Stephanie was 18 years old when she fainted while walking to school.
After being rushed to the hospital to undergo tests, she went into cardiac arrest. She was in a coma for three days at Detroit Children's Hospital before her cardiologist diagnosed her with Long Q-T syndrome. According to the Mayo Clinic, Long Q-T is a heart rhythm condition that can potentially cause fast, chaotic heartbeats. These rapid heartbeats might trigger a sudden fainting spell or seizure. While she was in a coma, Stephanie's family was told several times that she probably would not survive and, that if she did, they should not expect her to live a "normal" life.
Thankfully, Stephanie not only survived, but she is living and thriving with Long Q-T. Today, she is married and has three daughters, the youngest of which also has Long Q-T. And it wasn't until a couple of years ago that Stephanie needed a cardioverter defibrillator (ICD) implant to keep her heart in check.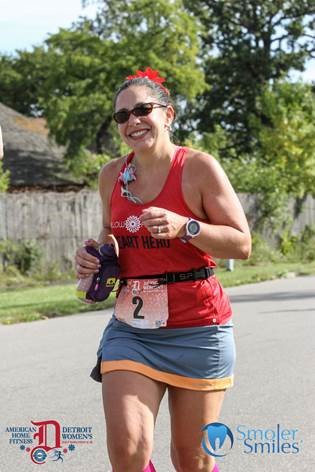 Stephanie started running in 2013 after being inspired by a friend who ran the Gazelle Girl marathon in Grand Rapids. She knew right away she wanted to be one of those women running, so she begun training for her first half marathon, which she completed in 2014.
When asked why she runs, Stephanie's response is simple, "It's fun!"
She isn't only running for herself, however. She also wants to be an inspiration for her three daughters.
"I have a heart condition that could be life threatening and limiting, but I am not letting it threaten or limit me," Stephanie said. "Watching me exercise and become active has inspired my three daughters, which is extremely important to me."
Stephanie is now a Priority Health Gazelle Sports Run Camp team leader and a Team Priority Health Champion since 2015. She joined the Champions program to get more involved with the running community, has given her the opportunity to get to know other runners who hold her accountable to do her best. This year, she will be participating in the Riverbank Run, Gazelle Girl Run, Women Run the D, and many others.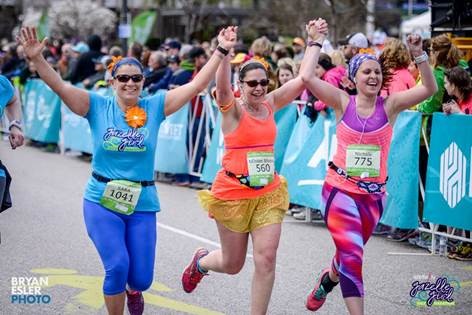 About Team Priority Health
The Team Priority Health Champions program is a group of people all focused on getting and staying healthy while inspiring others to follow suit. This program is open to everyone who has a passion to be and stay active and healthy. Champions are a close-knit group of people across the state of Michigan who come together to compete in races and walks and share insights on how they're living a healthy lifestyle through blogs on TeamPriorityHealth.com