As you get older, your health and wellness needs change, and your health care coverage needs to grow and change with you. Whether you are enrolling in Medicare for the first time or you're already enrolled and want to switch plans, the Annual Enrollment Period provides a great opportunity to review your health insurance needs.
The Medicare Annual Enrollment Period (AEP) runs from Oct. 15 to Dec. 7 every year. And in most cases, this is the one and only time when individuals can change their Medicare plan or carrier after they initially enroll in Medicare.
As you get older, your health and wellness needs change, and your health care coverage needs to grow and change with you.
When individuals initially select their Medicare coverage around their 65th birthday – the enrollment period is a seven month period including their birthday month, the three months prior and the three months following – they spend a significant amount of time evaluating their options, finding the best fit for their life and budget. But following that initial enrollment, many don't spend time re-evaluating their options annually. This might be a mistake.
By reviewing your options annually during AEP, you're able to ensure that your plan meets your needs especially since the plan costs and benefits, and your health, may have changed.
Supplemental Insurance
The first step is to evaluate if you need more coverage than Original Medicare (Parts A and B) offers. Original Medicare covers about 80 percent of medical expenses. If you would benefit from additional coverage, explore supplemental options.
A Medicare Advantage plan, also known as Medicare Part C, supplements your Original Medicare and is offered through private insurance companies. Many of these plans offer additional benefits such as health and wellness programs and prescription drug coverage. With a Medicare Advantage Plan, you'll have a monthly premium in addition to your Plan B premium but it could be as low as $0 and your out-of-pocket expenses may be lowered, and you'll have predictable copayments and often smaller deductibles.
If a Medicare Advantage plan isn't right for you, a Medigap plan is another option. Medigap plans also help cover costs that Original Medicare doesn't cover. However, with a Medigap plan, the trade off for paying less for out-of-pocket health expenses is a higher monthly premium.  
It's important to remember that you can only enroll in one of these type of plans. Medigap and Medicare Advantage do not work together.
The Right Tools
While reviewing your Medicare coverage, the numerous choices may seem overwhelming but it doesn't have to be. Reviewing your coverage can be done with ease with the information and tools available to you. A great resource is medicare.gov. It offers a simplified flow chart outlining different plan options and additional resources to help answer any questions. Additionally, check with your provider or trusted insurance agent to see if they have any specific tools that may be helpful in your search. For example, Priority Health offers an interactive Plan Advisor tool that allows you to select the perfect plan for your specific needs.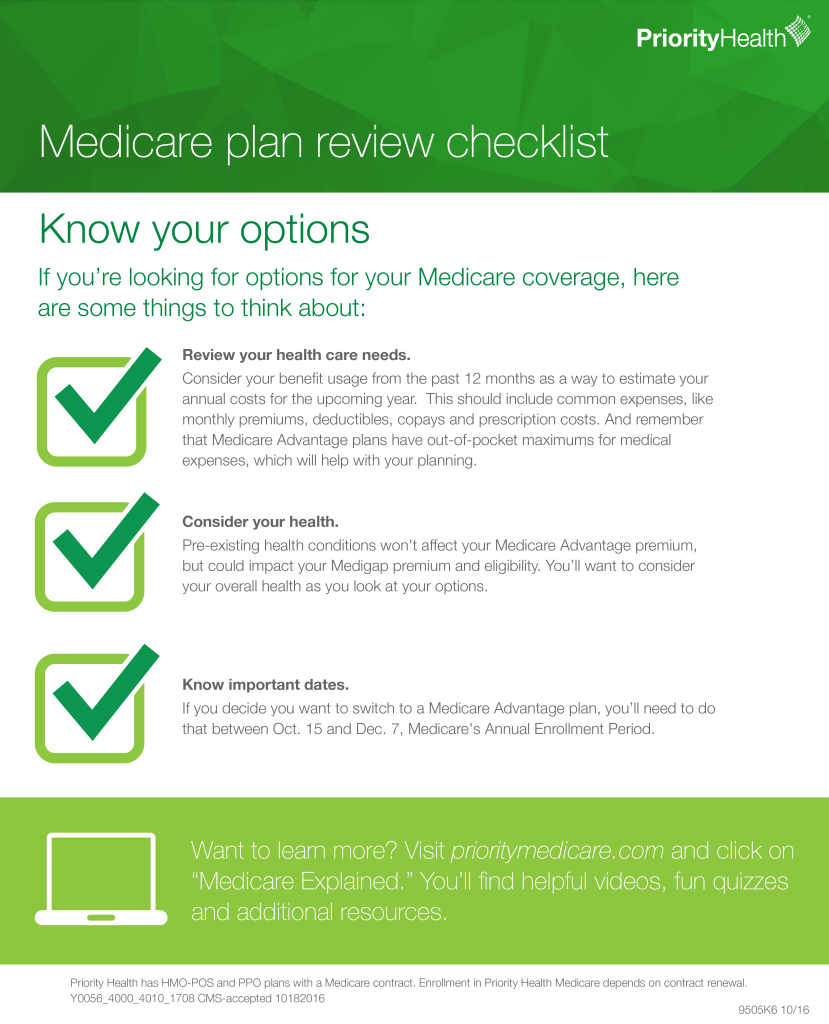 With the deadline to enroll or change plans Dec. 7, evaluate your options today. For additional information, download Priority Health's Medicare Guide below.