Megan Garbinski remembers vividly the morning of December 3, 2015. She was standing in her kitchen in Troy, Michigan, getting breakfast ready during the beginning of a busy holiday season. She was thinking about an article she had recently read. It was about how people gain weight over the holidays every year and how it gets harder and harder to lose it and keep it off as they age. She was in between sizes at the time, and knew if she grew into a higher size, she'd have to buy all new clothes.
"I love holiday dinners—meeting with friends, baking traditional cookies and toasting the season away," Megan says. "At that very moment, though, I shared with my husband and two sons that I'm not going to be one of those people who gains weight during the holidays. I told them, I'm going to LOSE 7 pounds this holiday season!"
Following her declaration, Megan recalls her husband and two sons saying "OK," yet they looked a bit doubtful. In the past, when she needed to shed a few pounds, Megan would go on what she calls her "half-sy diet"—eating 50 percent of what she normally would and getting a bit of exercise to help her weight go down. But she was getting older, she confides, "and I pretty much sensed the old half-sy routine wasn't going to work."
It was what her health-conscious son, Grant, initiated that week that changed everything.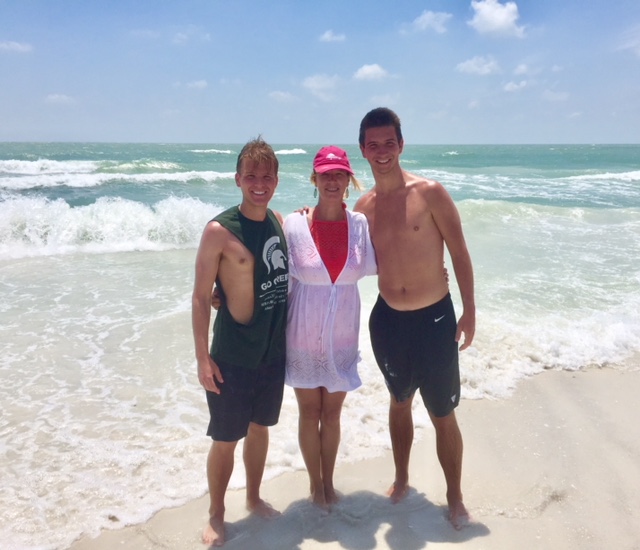 Out of the blue, Megan received a text from Grant notifying her that she'd soon hear from a man named Ethan regarding her weight-loss goal. That text came a few days later saying, "Hello-your son Grant said you may need some assistance with a goal you're setting. How may I help you?" Ethan was a trainer at the gym where the family had a membership, so Megan decided to meet this mystery man. "My son truly helped me with this wake-up call. He knew my old ways weren't going to work and that I had some learning to do if I wanted to be in better shape for our upcoming outdoor trips together."
Megan is grateful to her son for connecting her with Ethan, who taught her many new things and changed her outlook on fitness. "As many times as I tried to challenge what he recommended—that just didn't fly. He was right all the time!"
Most importantly, right away Ethan asked Megan about her "why." Why did she want to lose weight, develop muscle and commit to a fitness routine?
Megan admits weight wasn't always a problem for her, as she was raised to eat a healthy, balanced diet and get lots of exercise. She played sports and exercised well into her 20s. It was raising her two sons and balancing her career as a journalist throughout her 30s, 40S and into her 50s that took her focus away from being serious about fitness for some time.  Eventually, though, the pendulum swung back her way. "I was inspired to focus more on myself. I wanted to be strong through the next decades of my life." Her "why" was truly long-term.
"It wasn't to fit into a special dress or look good for an upcoming event or any of the reasons the trainer normally heard from others," Megan says. "I told him I'd like to be in the best shape I can be in for myself and for my family. I want to be strong and energetic and be able to do all of the things my family and I love to do—hike national parks, golf, run, kayak, canoe and go on long-distance bike rides. I also abhorred the idea of buying clothes in a larger size—that seemed like I'd just be conceding to the inevitable things that can (but don't have to) happen as one ages."
"I learned so much about food as fuel. Counting calories makes you appreciate everything you eat and makes you more grateful, if that makes sense. It also prevents mindless munching, which isn't good for anyone."
Having recently managed her aging mother's care well into her 90s, Megan often also saw other elderly people who were not in good shape and the toll that takes on people as they age. "It caused me to think about how I want to grow old, if indeed I'm granted that blessing. I hope to be strong and vital and independent. I knew that exercise was the key to preventing many illnesses, including both mental and physical. I also had been telling my sons since they were young that a good diet and lots of exercise can't always 100 percent prevent disease, but it sure can help you battle it. Was I listening to my own advice? Not really. So all of these thoughts and occurences added up to sort of a 'perfectly good storm' for me—a signpost that was pointing to the gym!"
During her time with trainer Ethan, she learned to commit to a healthy routine that she still follows to this day. It included working out three days per week with additional exercises on her off days, trying to get in 10,000 steps every single day no matter what and counting calories. The goal with meals was to focus on foods full of protein and complex carbohydrates that were low in sugar and fat. Calorie counting was a challenge at first for Megan, who loves food and admits walking around a gourmet grocery store is actually a favorite outing for her. She downloaded the app "MyFitnessPal" to track her intake. Then her son, Grant, bought her a Fitbit to make tracking her routine even easier.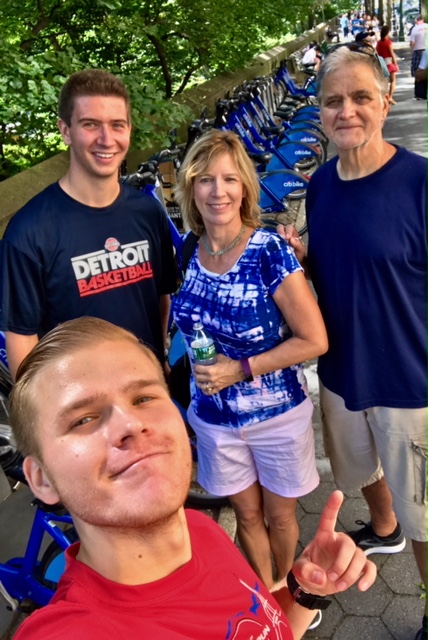 "By early March of that year I had lost 12 pounds, and gained a lot of muscle, energy and vitality. I learned so much about food as fuel. Counting calories makes you appreciate everything you eat and makes you more grateful, if that makes sense. It also prevents mindless munching, which isn't good for anyone." I remember my annual physical after I'd lost those 12 pounds and my doctor looking at the current weight and comparing it to the past. She made a huge deal about it and was truly proud of me, wanting to know how I did it. We're not talking 30 pounds here, we're talking about losing enough to be fit and strong (and wear the size of clothes I was accustomed to) and more importantly gaining stamina and muscle. I think even my posture changed, and she recognized that, too.
Today,the 50-something Megan remains committed to that holiday goal she set more than three years ago.
"My favorite workout is walking 10,000 steps per day. On New Year's Day this year, I committed to 10,000 steps a day for 100 days straight." Megan has even added a challenge by walking outside despite the snow and ice. "I bought some great boots to keep me from slipping and am braving the cold to relish the fresh air." If it's too cold and windy, Megan uses the treadmill or  elliptical at her gym or walks a local mall to get those steps in. She says competing against herself with the help of her Fitbit keeps her motivated to hit her daily goal before she hits the hay each night.
Megan has two jobs, so fitting in exercise when she can is key.
"With my busy life, I can't really schedule exercise, so I do it when I can. When I know there's a window in my day—off to the gym I go or I head outside. I make the most of those windows."
While her balance was not great at first and it was tough for her to do a plank for more than 15 seconds when she started, Megan can't believe how strong and full of energy she feels now. She credits her support system—husband Ron and two sons Grant and Will—who have all cheered her on throughout her journey to get in her best shape. Even the new family resident, a cat named Chelsea, has inspired her since Megan believes pets bring joy, charm and love to the household, keeping them all happier and healthier.
"Every time I brave the cold or head to the gym when I don't want to, I see them. I see us hiking, climbing, jumping into kayaks or riding our bikes together."
The family has a goal to visit several of the national parks and to hike throughout Alaska together. Whenever they travel, they create an itinerary that includes way more than just sitting on a beach. Wherever they go, even if it's just to nearby Ohio, they make sure to check out hiking areas and bike routes. "Every time I brave the cold or head to the gym when I don't want to, I see them. I see us hiking, climbing, jumping into kayaks or riding our bikes together."
Megan has advice for other individuals and families who may be struggling to stay committed to their health goals in 2018, and that is to look around them.
"We live in a spectacular world full of beauty and surprises. The best way to see it is to take time to explore it through biking, hiking, kayaking and more. To do that properly, you have to be in decent shape. Join a hiking club or biking club and get a Fitbit to compete with yourself."
As a Priority Health HMO member for the past two years, Megan appreciates the extensive coverage network her health plan offers so she can keep the doctors she loves, but her goal is to not see them other than wellness check-ups. She'd much rather spend her time exploring the state she loves so much as inspiration for her second job—her personal business is creating  Michigan-themed watercolor paintings, stationery, gift wrap and table linens as well as teaching painting.
"I love the Great Lakes State. We have fresh water, beautiful country and cool cities, all in one state, with four seasons, too!"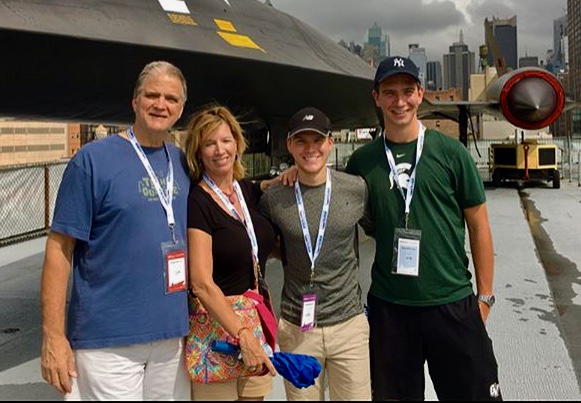 Moving into 2018 and beyond, Megan is looking forward to everything her healthier lifestyle offers, from her busy career to her personal time with family.
"Health equals energy equals confidence equals joi de vivre (joy of life) equals I can do anything I set my mind to!"