It seems there's a national food holiday for everything from peanut butter to pancakes. Popcorn is no exception with Popcorn Lovers Day observed the second Thursday in March since 2012. And while an entire day devoted to America's favorite cinema snack may seem silly, the reality is—this gluten-free grain deserves to be celebrated. Outside of the concession stand line, popcorn is natural, fun to eat—and thankfully—pretty healthy.
It's been around for thousands of years, but popcorn didn't really didn't start popping up popularly in the U.S. until the mid-1800s. Traditionally made with butter or lard, this crunchy treat reached mass appeal thanks to movie theaters. And the invention of the magical microwave kept the trend popping up in homes all over America with the first patent for a microwave popcorn bag issued in 1981, boosting home snacking by tens of thousands of pounds. These days, Americans consume around a million pounds of (unpopped) popcorn every year. Movie theater popcorn continues to be the least healthy option, at over 1,000 calories for a large tub without butter. Add it—which is often non-hydrogenated colored and flavored soybean oil posing as butter—and you're looking at an extra 130 calories per tablespoon.
Now for the good news: a cup of plain popped kernels comes in on the lighter side at just 31 calories with loads of health benefits. Popcorn is gluten free, high in dietary fiber (to keep you feeling full longer), rich in complex carbohydrates and low in fat. It's also a 100 percent whole grain snack with important antioxidants called "polyphenols" found in the hull—also known as that seedy part that gets stuck in your teeth. These antioxidants can help protect against cancer, heart disease and other illnesses. Studies have even shown that the serotonin found in popcorn can have relaxing, mood-lifting effects. No wonder everyone loves movie night.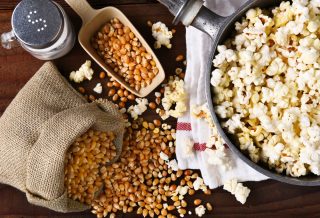 So, how to marry the delicious experience of a theater treat with the healthy benefits kernels offer? The answer: it's all about the flavor. Here are ten delicious and nutritious options to pop up and into your mouth—from sweet to savory:
Sweet treats:
Savory seasonings:  
Whether you go sweet or savory this Popcorn Lovers Day or during that next movie night, remember to cut down on oil, butter and salt atop that freshly popped corn. Instead, opt for alternative seasonings, sauces and new flavor combos that are just as delicious and way more nutritious. Happy popping!